PLACES TO EAT OTHER THAN AT HUXTABLE FARM
Please fell free to bring a picnic, wine, beer etc. back to Huxtable Farm. There is a fridge available for you to use & we can provide plates, cutlery, glasses, butter, salt & pepper.  Use one of the picnic tables situated around the farm, in the gardens or next to the pond, we have a picnic basket & blanket available to borrow. If the weather is not suitable for a picnic outside Jackie & Antony are happy to set the dining room table for you to use.
Alternatively; try some of the wonderful local eating establishments;
The New Inn, Goodleigh, EX32 7LX Tel; 01271 342488 (Pub with good home cooking, see Huxtable Farm's Youtube Video)
The Bell Inn, (Child friendly Pub) Chittlehampton EX37 9QL Tel; 01769 540368
The Stags Head Inn, (Pub) Stags Head, Filleigh, EX32 0RN Restaurant open 12 – 2pm, 7 – 9.30pm
Tel; 01598 760250
The London Inn, Molland, EX36 3NG Tel; 01769 550269
The Chichester Arms, Bishops Tawton, EX32 0DQ Tel; 01271 343945
The Jack Russell Pub, Swimbridge EX32 0PN Tel; 01271 830366
Zest South Molton (Café, Bar, Restaurant) 135 East Street, South Molton, Devon, EX36 3BU 01769 574225
The Castle, Blakes Hill Road, Landkey, Barnstaple, EX32 0NF Tel; 01271 830438
The Boathouse Restaurant & Pub, Marine Parade, Instow, EX39 4JJ Telehone 01271 681292
The Grove Inn, Kings Nympton, North Devon EX37 9ST Tel. 01769 580406
Bensons, 20 The Quay, Appledore EX39 1QS Tel: 01237 424093
The Boathouse, Marine Parade, Instow EX39 4JJ Tel: 01271 861292
The Commodore Hotel, Marine Parade, Instow, EX39 4JN Tel: 01271 860347
The Rock Inn, Rock Hill, Georgeham, EX33 1JW Tel: 01271 890322
The Pier House, Merley Rd, Westward Ho! EX39 1JU Tel: 01237 473263
 Heanton Court, Braunton Rd, Barnstaple EX31 4AX Tel: 01271 816547
The Hunters Inn, Hedden Valley, Exmoor, EX31 4PY Tel: 01598 763230
The Masons Arms, (Mitchelin Pub of the Year 2010) Knowstone, South Molton EX36 4RY Tel: 01398 341231
The Black Venus Inn, Challacombe, Barnstaple EX31 4TT Tel: 01598 763251
Fox & Goose, Parracombe, EX31 4PE Tel: 01598 763239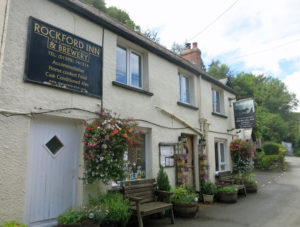 Terra Madre,(Mediterranean cuisine)Broomhill Art Hotel, Muddiford Rd, Barnstaple EX31 4EX Tel: 01271 850262
Stumbles The Courtyard Bistro   134 East St, South Molton EX36 3BU Tel: 01769 573683 Open
Squires Fish Restaurant
Devon's Finest Fish & Chip Restaurant & Takeaway. Varied menu including Vegetarian, Home-made Beefburgers, Fish-Cakes and Steak & Ale Pie and Healthy Option Poached Fish.
Squires Fish Restaurant, Exeter Road, Braunton, EX33 2JL Tel: 01271 815 533
The Thatch at Croyde 14 Hobb's Hill, Croyde, Braunton EX33 1LZ Tel: 01271 890349
Blue Groove at Croyde,  2 Hobb's Hill, Croyde, EX33 1LZ Tel: 01271 890111
Hans Court Chinese Restaurant
One of Devon's finest eating establishments serving Cantonese & Peking cuisine
Milton House, Fremington, Barnstaple, EX31 2NX Tel: 01271 373 865
Places to eat in Barnstaple
Claytons & Glasshouse, 2 Cross St, Barnstaple, EX31 1BA Tel; 01271 323311  Exclusive 10% discount voucher available from Huxtable Farm B&B
Fullam Chinese Restaurant
One of Devon's favourite eating establishments. Takeaway available. Fullam Chinese Restaurant, 18 Tuly Street, Barnstaple, EX31 1DH
Tel: 01271 328 882
Custom House, 9 The Strand, Barnstaple EX31 1EU Tel; 01271 322143
Malee Thai Restaurant.
Authentic Thai cuisine. Open 7 days, 12 – 3pm, 6-11pm. Takeaway available. 23 Boutport Street, Barnstaple, EX31 1RP Tel; 01271 322221.
The Pelican Fish & Chips, 1 Oakland Park, Barnstaple, EX31 2BZ Tel; 01271 345605
Giovanni's Restaurant
Opposite the Queen's Theatre. Truly authentic Italian cuisine in pleasant surroundings.
Giovanni's Restaurant, 35 Boutport Street, Barnstaple, EX31 1RX
Tel: 01271 321 274
The Ganges (Authentic Indian Restaurant) 87 Newport Rd, Barnstaple EX32 9RB Tel: 01271 324566 or 01271 322299
62, The Bank, Boutport Street, Barnstaple, EX31 1HG Tel: 01271 324446
Jalapeno Peppers (Mexican Restaurant) Maiden St, Barnstaple EX31 1HA Tel: 01271 328877
Honey Moon Chinese & Thai Restaurant. Authentic Chinese & Thai cuisine. Open 7 days. Lunch buffet and full dinner menu. Takeaway & delivery service available!
Honey Moon Chinese & Thai Restaurant, 3 The Strand, Barnstaple, EX31 1EU Tel: 01271 329 800
Moghul Brasseries. Indian Restaurant & Take Away. 57 Vicarage St, Barnstaple EX32 9JE Tel: 01271 329993
Cafes and Tea rooms
The Corn Dolly (Tea shop) 115a East St, South Molton, EX36 3DB Light lunches, home baked cakes and scones, cream teas etc open Mon -Saturday 9.30am – 5pm. 115a East St, South Molton EX36 3DB Tel; 01769 574249
Meraki Coffee Café 12 South Street, Woolacombe