PLACES TO EAT OTHER THAN AT HUXTABLE FARM
Please feel free to bring a picnic, wine, beer etc. back to Huxtable Farm. There is a fridge available for you to use & we can provide plates, cutlery, glasses, butter, salt & pepper.  Use one of the picnic tables situated around the farm, in the gardens or next to the pond, we have a picnic basket & blanket available to borrow. If the weather is not suitable for a picnic outside Jackie & Antony are happy to set the dining room table for you to use. Click here for some local food and beverage suppliers you may wish to visit
Alternatively; try some of the wonderful local eating establishments;
Within 7 miles of Huxtable Farm B&B;
The New Inn, Goodleigh, EX32 7LX Tel; 01271 342488 (Pub with good home cooking, see Huxtable Farm's Youtube Video)
The Bell Inn, (Child friendly Pub) Chittlehampton EX37 9QL Tel; 01769 540368
The Stags Head Inn, (Pub) Stags Head, Filleigh, EX32 0RN Restaurant open 12 – 2pm, 7 – 9.30pm
Tel; 01598 760250
The Castle, Blakes Hill Road, Landkey, Barnstaple, EX32 0NF Tel; 01271 830438
The Jack Russell Pub, Swimbridge EX32 0PN Tel; 01271 830366
South Molton (7miles)
Zest South Molton (Café, Bar, Restaurant) 135 East Street, South Molton, Devon, EX36 3BU 01769 574225
Stumbles The Courtyard Bistro   134 East St, South Molton EX36 3BU Tel: 01769 573683 Open Wednesday, Thursday, Friday & Saturday evenings
The Corn Dolly (Tea shop) 115a East St, South Molton, EX36 3DB Light lunches, home baked cakes and scones, cream teas etc open Mon -Saturday 9.30am – 5pm. 115a East St, South Molton EX36 3DB Tel; 01769 574249
Places to eat in Barnstaple (9 miles to centre)
Claytons & Glasshouse, 2 Cross St, Barnstaple, EX31 1BA Tel; 01271 323311  Exclusive 10% discount voucher available from Huxtable Farm B&B
Fullam Chinese Restaurant
One of Devon's favourite eating establishments. Takeaway available. Fullam Chinese Restaurant, 18 Tuly Street, Barnstaple, EX31 1DH Tel: 01271 328 882
Custom House, 9 The Strand, Barnstaple EX31 1EU Tel; 01271 322143
Siver Tree Thai Takeaway 23 Boutport Street, Barnstaple, EX31 1RP Tel; 01271 322221.
The Pelican Fish & Chips, (Award winning Fish & Chip Restaurant) 1 Oakland Park, Barnstaple, EX31 2BZ Tel; 01271 345605
Giovanni's Restaurant
Opposite the Queen's Theatre. Truly authentic Italian cuisine in pleasant surroundings.
Giovanni's Restaurant, 35 Boutport Street, Barnstaple, EX31 1RX
Tel: 01271 321 274
The Ganges (Authentic Indian Restaurant) 87 Newport Rd, Barnstaple EX32 9RB Tel: 01271 324566 or 01271 322299
Gurkha Restaurant (Nepalese & Indian) 2 Market St, Barnstaple EX31 1B Tel: 01271 377665
62, The Bank, Boutport Street, Barnstaple, EX31 1HG Tel: 01271 324446
Jalapeno Peppers (Mexican Restaurant) Maiden St, Barnstaple EX31 1HA Tel: 01271 328877
Honey Moon Chinese & Thai Restaurant. Authentic Chinese & Thai cuisine. Open 7 days. Lunch buffet and full dinner menu. Takeaway & delivery service available!
Honey Moon Chinese & Thai Restaurant, 3 The Strand, Barnstaple, EX31 1EU Tel: 01271 329 800
The Beaver Inn, Appledore, EX39 1RY Tel: 01267 474822
Salt and Pepper Indian Restaurant & Take Away. 57 Vicarage St, Barnstaple EX32 9JE Tel: 01271 329993
A little further a field but well worth a visit;
The London Inn, Molland, EX36 3NG Tel; 01769 550269
The Chichester Arms, Bishops Tawton, EX32 0DQ Tel; 01271 343945
The Boathouse Restaurant & Pub, Marine Parade, Instow, EX39 4JJ Telehone 01271 861292
The Grove Inn, Kings Nympton, North Devon EX37 9ST Tel. 01769 580406
The Commodore Hotel, Marine Parade, Instow, EX39 4JN Tel: 01271 860347
The Rock Inn, Rock Hill, Georgeham, EX33 1JW Tel: 01271 890322
The Pier House, Merley Rd, Westward Ho! EX39 1JU Tel: 01237 473263
 Heanton Court, Braunton Rd, Barnstaple EX31 4AX Tel: 01271 816547
The Hunters Inn, Hedden Valley, Exmoor, EX31 4PY Tel: 01598 763230
The Masons Arms, (Michelin Star Pub) Knowstone, South Molton EX36 4RY Tel: 01398 341231
Kentisbury Grange
 (Michael Caines Michelin Star Restaurant) Barnstaple EX31 4NL 01271 882295
The Black Venus Inn, Challacombe, Barnstaple EX31 4TT Tel: 01598 763251
Fox & Goose, Parracombe, EX31 4PE Tel: 01598 763239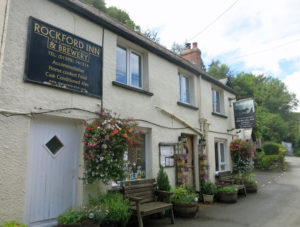 Broomhill Art Hotel, Muddiford Rd, Barnstaple EX31 4EX Tel: 01271 850262
Stumbles The Courtyard Bistro   134 East St, South Molton EX36 3BU Tel: 01769 573683 Open
Squires Fish Restaurant
Devon's Finest Fish & Chip Restaurant & Takeaway. Varied menu including Vegetarian, Home-made Beefburgers, Fish-Cakes and Steak & Ale Pie and Healthy Option Poached Fish.
Squires Fish Restaurant, Exeter Road, Braunton, EX33 2JL Tel: 01271 815 533
The Thatch at Croyde 14 Hobb's Hill, Croyde, Braunton EX33 1LZ Tel: 01271 890349
Blue Groove at Croyde,  2 Hobb's Hill, Croyde, EX33 1LZ Tel: 01271 890111
Hans Court Chinese Restaurant
One of Devon's finest eating establishments serving Cantonese & Peking cuisine
Milton House, Fremington, Barnstaple, EX31 2NX Tel: 01271 373 865
Meraki Coffee Café 12 South Street, Woolacombe
Local food and beverage suppliers
Below is a list of our local food and beverage suppliers that we use at Huxtable Farm who you may want to visit to purchase food for your picnic or arrange to take home some of the best fresh local produce available.
Meat – May's Butcher, South Molton, Tel 01769 572368, our own Huxtable Farm lamb
Dairy – The Cheese Larder, South Molton www.thecheeselarder.co.uk (Great deli with local spirits and Ales!)Langage Clotted Cream Tel; 01752 337723 www.langagefarm.com available at Huxtable Farm,  West Country Cheese www.westcountrycheese.co.uk Butchers Row Barnstaple , Hockings Ice Cream (Best Ice-cream ever!)www.hockingsicecream.co.uk Instow, Appledore, Westward Ho! & Torrington Common
Bakery – Chanters Bakery, South Molton  Tel; 01769 572651
Fruit and Vegetables Huxtable Farm home grown fruit when in season, Simmons Green Grocer, South Molton.
Specialist Foods – Griffin's Yard, South Molton – local & fair trade produce  Tel01769 574284 / 572372
Preserves – Quince Honey Farm Tel; 01769 572401 www.quincehoney.co.uk, Huxtable Farm home-made jams & preserves using home grown fruit.
Mole Valley Farmers, South Molton- Farmers Co-operative with locally sourced food and drink
South Molton Food Pannier Market – Thursdays & Saturdays till 8am – 2pm
Barnstaple Food Pannier Market – Tuesday & Friday 9am – 3pm