Here at Huxtable Farm B&B, we are busy picking apples and blackberries to make a delicious compote to serve at the breakfast table. Whilst staying at Huxtable Farm B&B you are very welcome to pick some apples and blackberries to take home and do some fabulous fungi spotting around the farm.
Book your stay at Huxtable Farm B&B
Here's some ideas of what to do & see on your visit to North Devon & Exmoor during September.
If you wish to have a car free day there are so many free things you can do at Huxtable Farm B&B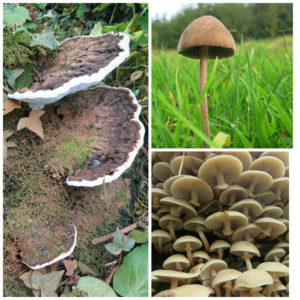 Enjoy an autumnal walk from Huxtable Farm, through wooded valleys (Coombes) and enjoy the glorious golden, autumnal colours of the tree canopy.
Visit the fabulous Beaches of North Devon , take a scenic walk (Walking in North Devon) or here is a link to some ideas for days out for the family.
There are so many beautiful Gardens to visit in North Devon;  Castle Hill gardens 2 miles from Huxtable Farm B&B, Marwood Hill Gardens, Tapely Park Instow, not forgetting RHS Rosemoor near Torrington, you will be spoilt for choice
Dartington Crystal, glassware company great to visit any time of year, watch the glass blowers, have a go at painting glass or browse the shop for a gift for a special person.
Events taking place in North Devon during September;-
20 – 28th September: – Appledore Book Festival – A chance to meet your favourite author! Here at Huxtable Farm B&B we have available to purchase 'Huxtable The Story of a Devon Farm' telling you all about the farm, it's history, Huxtable ancestry and its neighbours!
13 – 29th September:- Art Trek North Devon – Local artists open their studio's for you to visit to see what they do.
To celebrate for start of 2019 Rugby World Cup, a record breaking Rugby Ball is being made by Aramis arriving in South Molton Town (6 miles from Huxtable Farm B&B) on the 15th September, where there will be lots of entertainment
September is Carnival time ;
21st September Barnstaple Carnival & Fair.
28th September South Molton Carnival
We look forward to welcoming you to Huxtable Farm B&B, Devon with a delicious Cream Tea in the afternoon.